OPENING KEYNOTE
Keynote Speaker: Senator Ratna Omidvar
Room: 118 A/B/C/D
The Honourable Ratna Omidvar, C.M., O.Ont.
Senator for Ontario, The Senate of Canada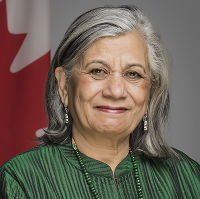 Ratna Omidvar is an internationally recognized voice on migration, diversity and inclusion. In April 2016, Ms. Omidvar was appointed to the Senate of Canada as an independent Senator representing Ontario. Currently, Senator Omidvar is the Chair of the Senate's Social Affairs, Health and Technology Committee and the Vice-President of the Canada-Germany Interparliamentary Group. She previously served as Deputy Chair of the Special Senate Committee on the Charitable Sector.
Senator Omidvar is a Director at the Century Initiative, a Councillor on the World Refugee and Migration Council, a Founding Committee Member of Lifeline Afghanistan and Chair Emerita for the Toronto Region Immigrant Employment Council. She is also a Juror for the Global Centre for Pluralism's annual Pluralism Award.
Previously at Toronto Metropolitan University, Senator Omidvar was a Distinguished Visiting Professor and founded the Global Diversity Exchange. Senator Omidvar received a Honorary Degree, Doctor of Laws, from Toronto Metropolitan University in 2018 and from York University in 2012.
Senator Omidvar is co-author of Flight and Freedom: Stories of Escape to Canada (2015) and co-editor of Five Good Ideas: Practical Strategies for Non-Profit Success (2011).
Senator Omidvar was appointed to the Order of Ontario in 2005 and became a Member of the Order of Canada in 2011, with both honours recognizing her advocacy work on behalf of immigrants and devotion to reducing inequality in Canada. In 2014, Senator Omidvar received the Cross of the Order of Merit of the Federal Republic of Germany in recognition of her contribution to the advancement of German-Canadian relations.
Opening Keynote Description
According to the Federal Government's 2023–2025 Immigration Levels Plan, Canada is set to welcome approximately 1.5 million new immigrants over the next three years. Effective settlement and integration will be essential to ensure these newcomers are well positioned to contribute to Canadian communities and the economy. In regard to these anticipated settlement needs, Ontario's municipal social services providers will play an outsized role in enabling immigrants to prosper.
Drawing on her own experiences of international migration and her expertise in settlement, integration, and diversity and inclusion, Senator Ratna Omidvar will discuss the role that municipal social services can play in supporting recent immigrants and asylum seekers to become engaged citizens. She will also provide insight into how Ontario's municipal social services providers can best be prepared to support this influx of new Canadians.

---