Highlights from OMSSA's Employment Forum

OMSSA hosted more than 230 delegates at our Employment Forum on October 1-2 in Toronto. The two-day, cross-sectoral forum featured three inspiring keynotes, 16 breakout sessions, and valuable opportunities for delegates to build new connections across Ontario's broader human services and employment sectors.
Have a look below for key highlights:
---
Inspiring Keynotes
Over the two-day forum, our keynote speakers inspired delegates to look to and prepare for the future of employment services in Ontario, to apply new techniques to build safer and stronger client relationships, to recognize the impact and importance of the work they do, and to challenge themselves to practice self-care to combat burnout and vicarious trauma.
During our opening plenary, front-line staff and managers across Ontario's human services and employment sectors had the valuable opportunity to hear directly from the Province on key areas of transition and concern.
Delegates heard first from
Erin McGinn
, Assistant Deputy Minister of the Workforce Policy and Innovation Division at the Ontario Ministry of Training, Colleges and Universities, who shared an overview of the Province's goals and directions for Employment Services Transformation. ADM McGinn also encouraged delegates to review the Province's
Call for Proposals for Service Service System Managers of Employment Services
(PDF) for more details on the planned rollout of the transformation initiatives.
Next, delegates heard from
Richard Steele
, Assistant Deputy Minister with the the Ontario Ministry of Children, Community and Social Services, who spoke to the Province's goals and directions in the area of life stabilization services.
Key priorities in this area included working to more clearly define a policy framework for life stabilization services (goals, delivery requirements, expectations, outcomes, performance measures) and to improve clients access by moving to a further integrated system for social assistance and employment supports. ADM Richard Steele also noted that this work would be grounded in input from municipalities through its ongoing engagement at the Provincial-Municipal Social Assistance and Employment Committee (PMSAEC).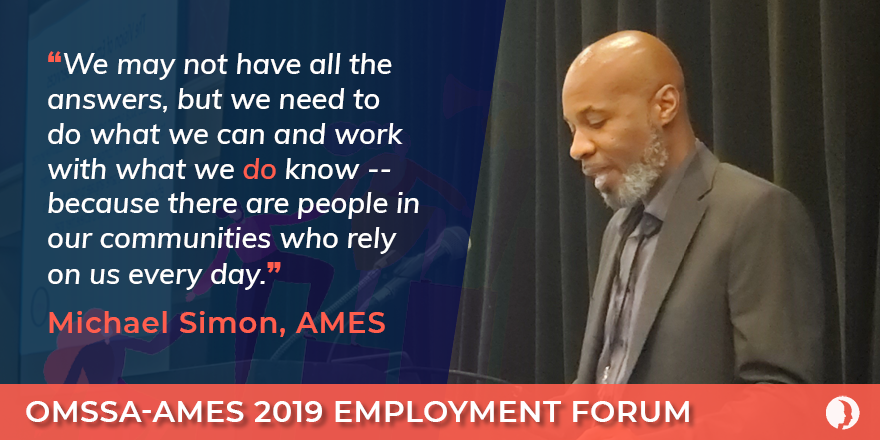 Delegates also heard from
Michael Simon
, President of the Association of Municipal Employment Services (AMES), on the front-line perspective of where employment services are heading towards in Ontario.
Michael emphasized the importance of life stabilization services within the broader employment services area, articulating a vision of a seamless social support system that provides responsive services to individuals with complex needs.
Michael also emphasized the importance of moving forward towards that vision, even in the face of uncertainty, recognizing the importance of our sector's work to the clients they serve every day.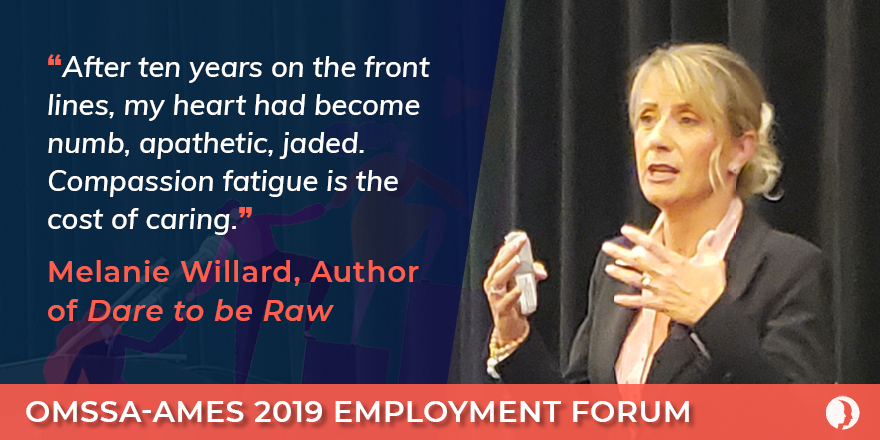 Day 1 of the Forum wrapped up with an incredibly compelling, candid and inspiring keynote from
Melanie Willard
, author of the memoir
Dare to be Raw
. Melanie's talk focused on building resilience, recognizing that for helping professionals, working on the front-lines can take a significant toll.
After years of serving on the front-lines of crisis and disasters across North America, Melanie experienced for herself what can happen when these stresses accumulate. Melanie suffered from burnout, compassion fatigue, and Post-Traumatic Stress Disorder, which led down a path of reckless behaviour, addiction, and significant personal loss.
By candidly sharing her story, Melanie encouraged a thoughtful dialogue on self-care, resilience, crisis intervention and leadership.
Day 2 of the Forum opened with a diverse panel of experts who each examined strategies and approaches for building stronger and safer relationships with clients from their own unique perspectives.
Panelists included:
Catherine Chambers,
Teacher-Researcher;
Diane Smylie,
Provincial Director of the Ontario Indigenous Cultural Safety Program with the Southwest Aboriginal Health Access Centre;
Leila Monib,
Provincial Practice Lead with the Southwest Aboriginal Health Access Centre;
Dominique-Michelle Legacy,
Transitional Case Manager, Southwest Ontario Aboriginal Health Access Centre; and
Wendy Beales,
Family Therapist with the Family Services Division at the Region of Durham.
Our panelists brought a variety of expertise and experience to the table, exploring how bias can influence employment outcomes, and what to do about it; cultural safety and trauma-informed practice in the Indigenous context; and how motivational interviewing can help build compassionate and collaborative communication with clients to strengthen their personal motivation.
---
Valuable Breakout Sessions
Our program featured 16 breakout sessions, showcasing promising approaches from inside and outside of Ontario's human services sector. Delegates explored a variety of topics, from seizing employment opportunities in new economies, to engaging more effectively with youth job seekers, leveraging group strategies to meet the needs of the long-term unemployed, working more effectively with ODSP and Employment Ontario for better client outcomes, and proven strategies for breaking the cycle of poverty.

Breakout sessions showcased best practices, innovative partnerships and practical approaches from across the human services and employment sectors, with presenters joining us from member organizations including
Bruce County
,
Huron County
,
Durham Region
,
Niagara Region
,
Lambton County
, the
City of Kingston
and the
City of Greater Sudbury
.
The Forum also brought in expertise from across the broader employment and social services sectors and beyond, with subject matter experts joining us from the Ontario Federation of Indigenous Friendship Centres (OFIFC), N'Amerind Friendship Centre, Homeward Bound, Youth Rising Above and the the Southwest Aboriginal Health Access Centre, plus a range of independent consultants including Teacher-Researcher Catherina Chambers and Registered Psychotherapist Megan Phillips.
Presentation decks from breakout sessions and a selection of keynote addresses are available
here on our website
.
---
Building Connections
The two-day forum also offered valuable opportunities for productive discussions, networking and information sharing. OMSSA was pleased to host a diverse group of participants, including 200+ front-line staff and managers from across Ontario's 47 human service system managers, as well as colleagues from more than 10 non-profits and community service providers.

OMSSA also welcomed a range of exhibitors who joined us to build connections and awareness with our members and delegates. Thank you to CARF Canada, Clark Communications, Career Development Practitioners Certification Board of Ontario, Canadian Council on Rehabilitation and Work, and Employment Readiness Scale for joining us onsite to build greater awareness of different range of employment, skills training, and technology resources to support stronger approaches for our sector.
---
Thank you to the 230+ delegates from across Ontario who helped make our 2019 Employment Forum a success.