Reflections on the 2023 Exchange Conference
By Tod Duncan
June 2023
---
Held in Ottawa this past May, OMSSA's 2023 Exchange Conference brought together more than 330 people for two days of learning, sharing, and connecting. It was a huge success! The Conference program was packed with content related to the work that OMSSA Members do in housing and homelessness, children's services, and employment and income supports.
Plenary Sessions
Affirming Stories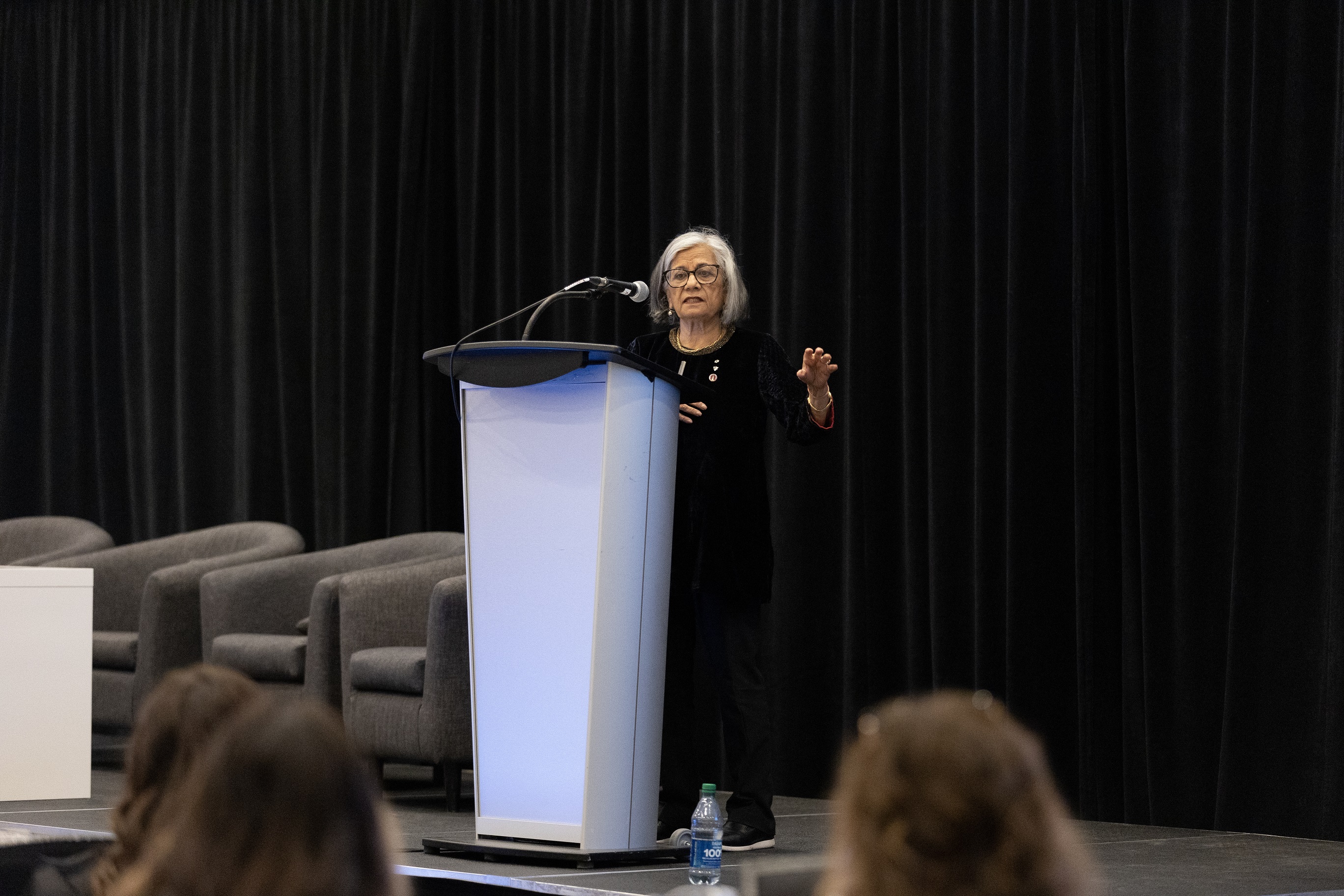 This year's Conference included several plenary sessions that were meant to provide broader context and insight into the work that OMSSA Members are doing in their communities. For instance, we heard from Senator Ratna Omidvar who told her story of migration to Canada and stressed the vital importance of municipal social services work in the effective settlement of new Canadians.
Immediately following the Senator's talk, two former service users from the City of Ottawa and City of Cornwall were spotlighted in a plenary discussion where they reflected on their experiences navigating the social services system and how this led them to eventually find work within these same municipal social services. Both discussed the value of having integrated services and how integration can significantly decrease the stress of an already difficult situation. Judging by the standing ovation that these former service users and now OMSSA Members received, the audience was inspired by their stories of transformation and resilience.
The key takeaway of both the morning plenary sessions was an affirmation of the essential role of municipal social services in supporting and improving the lives of people in Ontario.
Insights to Inform Your Work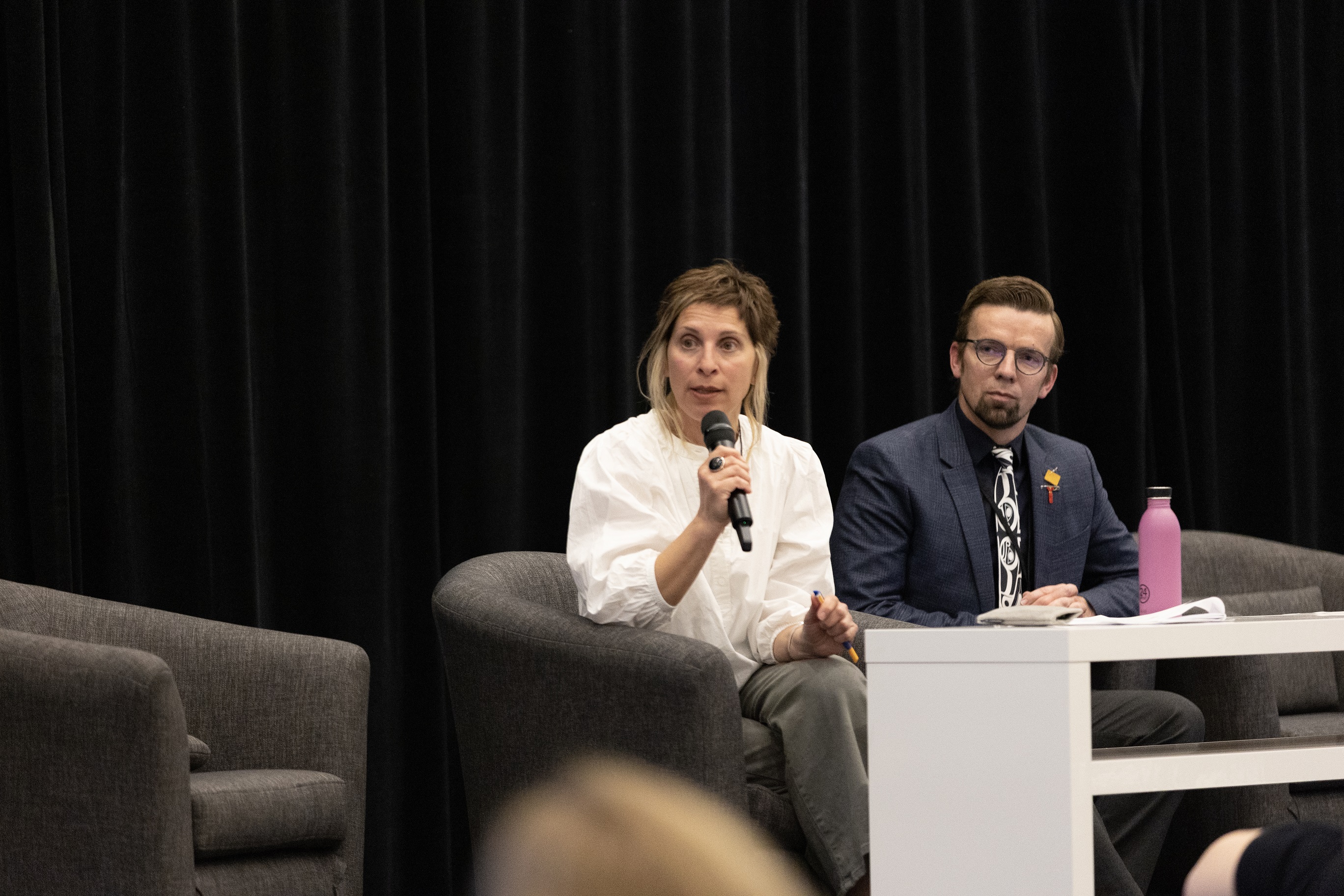 For each Conference, as organizers, we try to include content that may not be immediately relevant to the work Members do everyday, but can nevertheless inform this work.
At this year's Exchange Conference, attendees heard from Global Director of The Shift, Leilani Farha, who provided insights into the structural challenges people in poverty face when it comes to affordable housing.
Her talk traced the origins of Canada's current housing affordability crisis in part to policies and programs that have turned housing into a commodity owned by institutional investors (pension plans, real estate investment trusts, investment funds, etc.). In pursuit of a better return on investment, the financialization of housing has created an environment where affordable housing units have been supplanted by a drive for profit.
What Leilani's talk pointed out is how the mechanisms of housing financialization are often at odds with international human rights law. The takeaways for Members are twofold:
By making the lives of social services users more precarious, the financialization of housing in Ontario has a direct effect on the possible outcomes that OMSSA Members can achieve in their work;
OMSSA Members can advocate to protect the housing interests of social service users by bringing these issues to the attention of their elected officials, pension plans or other institutional investors (who directly invest in rental housing itself or through REITs), and unions (whose members can ask questions and advocate around how their pensions should invest).
Local Municipal Champions Sharing Insights
The first of plenary sessions on day two introduced Members to the projects of four of OMSSA's 2022 Local Municipal Champions Award recipients. This session looked at integrated services by Ottawa, Windsor, County of Lambton, and the District of Thunder Bay Social Services Administration Board.
Responding to the service-delivery challenges of the COVID 19 pandemic these members established hubs or teams that would bring wrap-around supports to hard-to-reach service users. Each of these programs sought to change the delivery of services by focussing on individuals and how they are impacted by the types of interactions they have when seeking support services. It could be as simple as ditching the desk when dealing with service users, or, more challengingly, bringing services out to the communities that need them most even if it meant creating satellite sites away from a main city. Ultimately, the strength of these projects is they recognize the success of service users is often hindered by their need to seek disparate services all throughout the community.
Minister Karina Gould
Finally, the day two afternoon plenary session was a highlight for many in the audience because it involved a presentation from the Honourable Karina Gould, Federal Minister of Families, Children and Social Development. Minister Gould thanked OMSSA Members for the work they do, but also provided update on some of the excellent progress made by provinces and territories in implementing the Canada-Wide Early Learning and Child Care (CWELCC) system. In doing so, she highlighted the work being done by some of the provinces and territories to address the key challenge of recruitment and retention within the system.
As models for Ontario to emulate, Minister Gould pointed out that both Newfoundland and Labrador and the Yukon have created a minimum wage for Early Childhood Educators and British Columbia has introduced a wage enhancement. Meanwhile, Manitoba has introduced wage-enhancements and a top-up for the already existing pension plan (for child care centres) and RRSP program (for the home child care program).
While Ontario has yet to announce its approach to the challenge of recruitment and retention, she looks forward to promoting its work when she travels through Canada to discuss CWELCC. Suffice to say, Minister Gould's talk was incredibly well-received and proved to be a high point of the conference for many.
Breakout Sessions
Along with the core plenary sessions at the 2023 Exchange Conference were a series of more sector specific and skill development sessions. It was in these sessions were the Exchange Conference's goal of having OMSSA Member and associated organizations share their promising practices was truly apparent.
Digital Equity
This year, there were presentations from the District of Thunder Bay Social Services Administration Board, the County of Wellington, and the City of Ottawa/Ottawa Public Library which were focussed on improving digital equity in urban, rural, and remote settings. With the pandemic hastening the move towards virtual services and exacerbating a digital divide within communities, the presentations demonstrated members' commitment to ensuring access to digital devices and reliable internet services for social service users from communities where these resources are often harder to find.
EarlyON Portals and Partnerships
Similarly, York Region and an EarlyON provider from Greater Sudbury called CCR Connect provided insights into a Children's Services portal (developed by York Region) but can be adopted across the province. The portal was created to reduce barriers to access, make programming (including EarlyON) easier to access, and allow for more efficient data collection. Additionally, both York Region and CCR Connect presented on their work developing EarlyON partnerships and programming focussed on kids who have health conditions (including mental health) where specialized services might be needed and on Indigenous-led land-based learning.
An Employment Services Transformation Update
Owing to the challenge of implementing such a complex new system, the provincial employment services transformation continues to be a perennial favourite among Members from the employment and income support sector. This year's Conference included updates from Ministry of Labour officials, the City of Hamilton, and the County of Bruce.
As an early prototype, the City of Hamilton shared some of the successes and opportunities that have emerged from their journey so far. Likewise, County of Bruce outlined the unique approach that they have taken in partnership with Grey County, Huron County, and the City of Stratford as the Employment Service System Manager for the Stratford-Bruce Peninsula catchment area. The audience heard that, while not without challenges, the collaboration has allowed Bruce County and its partners to create an employment system that is responsive to local conditions.
Responding to Tragedy in London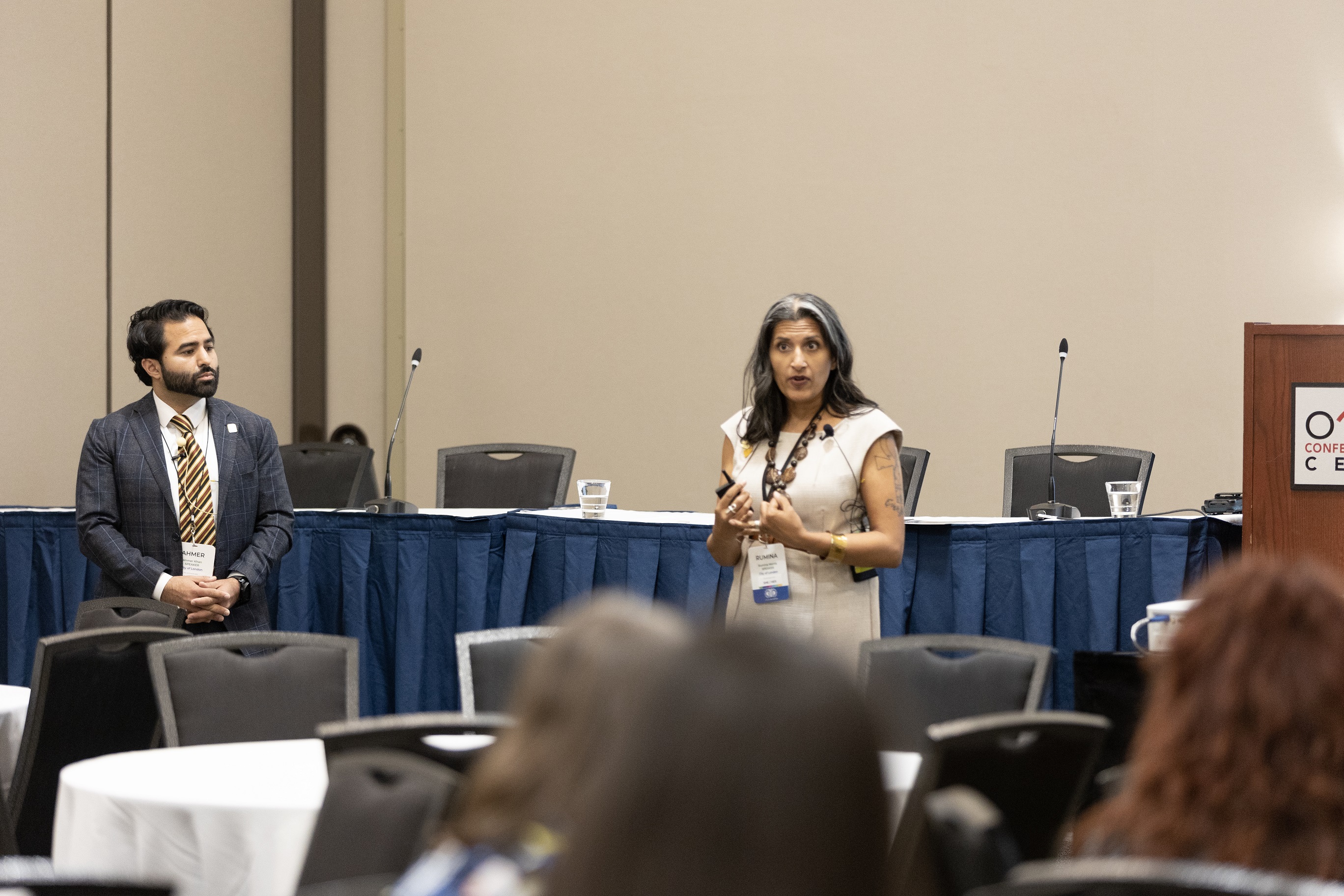 Focused on a program that emerged from an anti-Muslim terror attack, the Conference offered an important session on the steps that City of London took to eliminate Islamophobia in the community. Not only did the session outline how the City took action to engage the Muslim community and other community partners, but it also provided practical insights into the Anti-Racism and Anti-Oppression Framework that was developed to assist in improving the work that the City is doing.
Notably, the Framework included an equity tool that could be used to evaluate the impact that programs and policies might have on communities.
Supporting Indigenous Staff
While OMSSA Members have made progress in creating more inclusive workplaces, many racialized and Indigenous staff often feel like they are unfairly left with the responsibility of sustaining and furthering an organization's equity and inclusion work.
In a session involving speakers from the City of Hamilton and the Kenora District Services Board, we heard from both Indigenous staff and a non-Indigenous ally about their experiences with developing systems of support for Indigenous staff, as well as the learning they have done as they perform this work. The audience for this session left with several key takeaways, such as:
The recruitment and retention of Indigenous staff is an act of Reconciliation, which is to say healing for Indigenous communities.
An Indigenous job candidate's personal history, when not underappreciated as baggage, can be an asset to an organization.
Hiring practices need to adapt to the needs of some Indigenous applicants by allowing for round tables or smudging, for instance.
There needs to be a change in thinking around supporting Indigenous staff whereby the colonial mindset is disrupted. Indigenous People often have their own ways of evaluating goals and objectives which should be considered.
Skills Development Sessions
Finally, the Exchange Conference would not be complete without sessions focused on improving some of the skills that members need for the work that they do. 2023's Conference was no exception with three sessions specifically designed as introductions to soft skills that are vital to OMSSA Members.
Trauma, Oppression, and Healing
One of the sessions, led by trauma therapist and educator, Karine Silverwoman, explored how Members can use a social justice, anti-racist, and anti-oppression lenses to think-through trauma-informed practice. Specifically, participants learned how awareness of their own lived experiences impacts the work they do and why it is important to consider this when working with service users and communities who have experienced trauma.
De-Escalating with Confidence
During the Conference planning process, we heard from several Members about the challenges that first line staff have had working with service users in distress or at various levels of agitation. But knowing what is occurring with a service user and why it is happening, is just as important as how to respond to it.
In a session designed by mediator and trainer, Sharad Kerur, to provide insights into de-escalation techniques, attendees were introduced to the interpersonal dynamics and tendencies that can often escalate conflicts without us even realizing. With staff and service user safety as the highest priority, the need to build a de-escalation toolkit is absolutely essential for the stressful times OMSSA Members live and work in.
Until Next Year
While these are only a few of the sessions that appeared at the 2023 Exchange Conference, those not mentioned here were equally significant and well-received by the attendees. Over the one and a half days of the conference, attendees got to see many great examples of the excellence of OMSSA Member organizations and the staff and managers who carry out important work geared towards improving the lives of so many Ontarians.
On behalf of OMSSA, we thank all committee members, presenters, and attendees for making this year's conference a success. If you didn't make it this year, we hope that you can attend the 2024 Exchange Conference in Toronto! Better yet, if you are interested in doing a presentation or participating on the committee, please contact me at education@omssa.com!
Photo credit: Sarah Bradley @ iShootEvents.ca.