Community Paramedicine in Sault Ste. Marie
By Chief Katie Kirkham
March 2022
---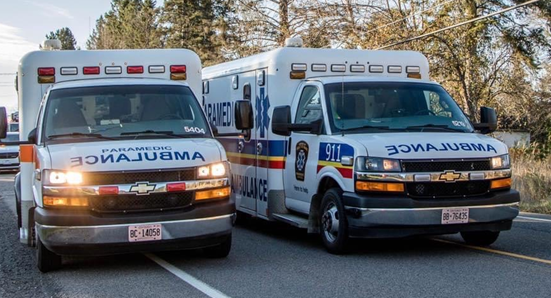 After years of seeing gaps between the care people need and the traditional programs offered, Sault Ste. Marie paramedics will finally have the chance to provide even better community-based healthcare to their patients. Soon, Sault Ste. Marie will have its own Community Paramedic program, a concept that has proven itself time and time again throughout Canada and is long overdue in this Northern community.
Conventional emergency medical services (EMS) models generally see paramedics responding to emergency calls throughout their community, providing stabilizing or life-saving measures and then transporting patients to a higher level of care. In recent years, community needs have shifted where 911 callers need more than a high-acuity response and transportation to the Emergency Department (ED).
Many patients are now experiencing complex health conditions that are complicated by significant social, mental health, or physical resource needs. This change makes it challenging to give these patients the best level of care. They are often left bouncing between home and hospital, trying to solve a problem that the current model of care cannot fix.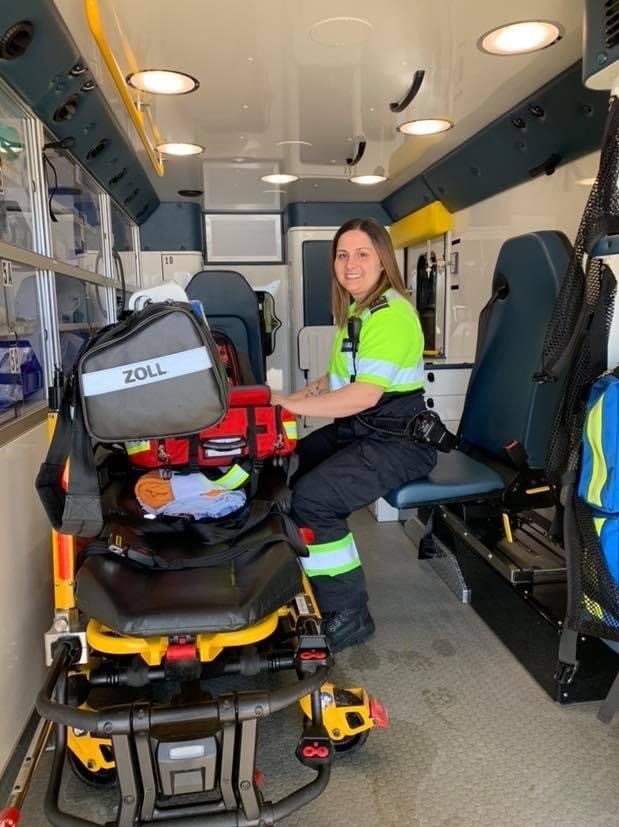 Paramedic Nicole Levesque preparing for her shift
Community paramedicine offers a different approach. Instead of waiting for an emergency call for help, paramedics proactively visit patients in their homes to conduct health or safety assessments, make connections between home and primary care services, and provide education and health promotion programs.
Community Paramedics look for opportunities to integrate the patient's care with other health and social service agencies, to reduce duplication of services, and provide a level of care not available elsewhere in the community.
The primary goals of Sault Ste. Marie's community paramedic program will be:
to reduce the number of frequent and repeating 911 calls
to reduce the number of low-acuity patients transported by paramedics to the Emergency Department (ED)
to alleviate pressures of ambulance offload delays in the hospital
to enable older adults and vulnerable individuals to continue living safely in their own homes
to reduce financial strains that come from more costly care, such as those incurred in acute care hospitals and long-term care facilities
to provide the right service at the right time to the right client
to improve health outcomes for high-risk seniors in the community
to integrate care with other services in the community so that the most appropriate resource is available to meet the client's unique needs
Community paramedicine tends to address the distinctive needs of the specific community, which is one of the reasons it is so successful. A program that works in one city won't necessarily meet the needs of another. For this reason, Sault Ste. Marie's program is being locally developed and in collaboration with researchers at McMaster University. By concentrating on the needs of the district's patient demographic and by using empirically supported solutions, this community paramedic model will successfully meet the goals it is trying to achieve.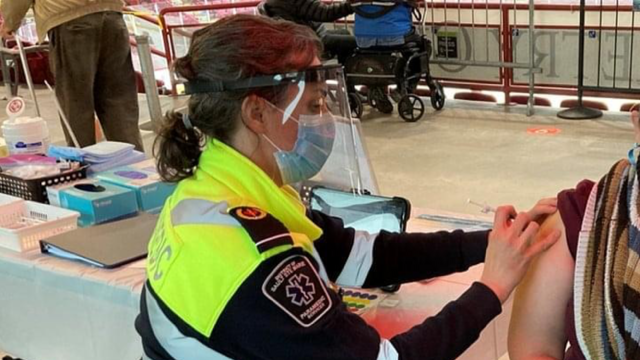 Paramedic Cathy Marshall administering Covid-19
vaccines
Sault Ste. Marie's community paramedics will offer a combination of traditional paramedic skills and enhanced procedures to their clients. Below are some of the skills that will be included:
Remote monitoring – blood pressure, thermometer, SpO2, body weight, blood glucometry, etc.
Point-of-care testing
Wound care
Vaccinations
Wellness Clinics
Fall-risk assessment
Home safety scans
Medication management
Enhanced palliative care
Disease prevention / healthy living education
Mental health assessment
Ontario Health has authorized an initial funding envelope for the District of Sault Ste. Marie Paramedic Services to get this program started. Additionally, a project proposal has been submitted to the Ministry of Long-Term Care. If approved for this funding, the Ministry would financially support the program until March 2024.
Initial and ongoing project funding will allow three categories of people to be included in this program:
those patients on the long-term care waitlist
those patients who have been assessed for long-term care but have not been added to the waitlist
those patients who will soon be eligible for long-term care
As the District of Sault Ste. Marie Paramedic Services continues to navigate the growing pressures of an aging population and rising healthcare demands, community paramedicine is a feasible solution. Patient-centred care is the way of the future, and the capacities of a community paramedic will add value to the broader healthcare design while closing the gaps between social and healthcare systems. Most importantly, it will support the residents that are most in need, to help them safely remain in their own homes longer.
Photo credit: Sault Ste. Marie Paramedic Services