The Ontario Municipal Social Services Association's 2022 Policy Conference capped off the year as our first in-person professional development event since December 2019. With many OMSSA Members excited at the prospect of connecting face-to-face with their colleagues, the Toronto event was well attended by people from all over the province.
The 2022 Policy Conference contained a mix of plenary and concurrent sessions, as well as relevant topics from each of OMSSA's priority areas. While each attendee will have their own highlights from the conference, the post-conference survey results suggest that there were several panels that stood out to members. To see the names of the speakers for each of the sessions, please see the 2022 Policy Conference Program (opens in new tab).
Laying the Foundation
On day one, the OMSSA Policy Conference began with a perennial favourite plenary session outlining the economic and policy changes Members are likely to see in 2023 and beyond. Bringing together an economist and policy directors, this opening discussion helped to lay the foundation for the entire conference. The panel focused on the challenges that Ontario's economy will face and addressed some of the policy considerations that emerge. Included among the issues that concerned the panelists the most were:
Affordable Childcare: During these challenging times, affordable childcare continues to be a potential economic boon for Canada and Ontario. Panelists impressed upon the audience how the successful roll-out of the CWELCC program could bring countless benefits to women and families, while having positive reverberations throughout the economy. This is an opportunity that shouldn't be squandered.
Social Assistance Rates: People living in a poverty need immediate increases in Ontario Works (OW) and Ontario Disability Support Program (ODSP) rates. Likewise, both people living in poverty and the workers more generally will benefit from greater government investment in affordable and supportive housing, as well as increased access to affordable public transit.
Healthcare: The healthcare system is the last line of defense in society and we can't allow it to fall into crisis. Likewise, human services play an important role as a buffer for the healthcare system. A functioning human services system that takes into consideration the needs of society's most vulnerable is an important support to healthcare overall.
Bill 23: Can problems of affordable housing be solved by Bill 23? Essentially, no. Concerns were raised about the lack of municipal consultation that went into the bill, as well as how the bill disempowers municipalities while simultaneously undermining environmental protections.
An Affordability Crisis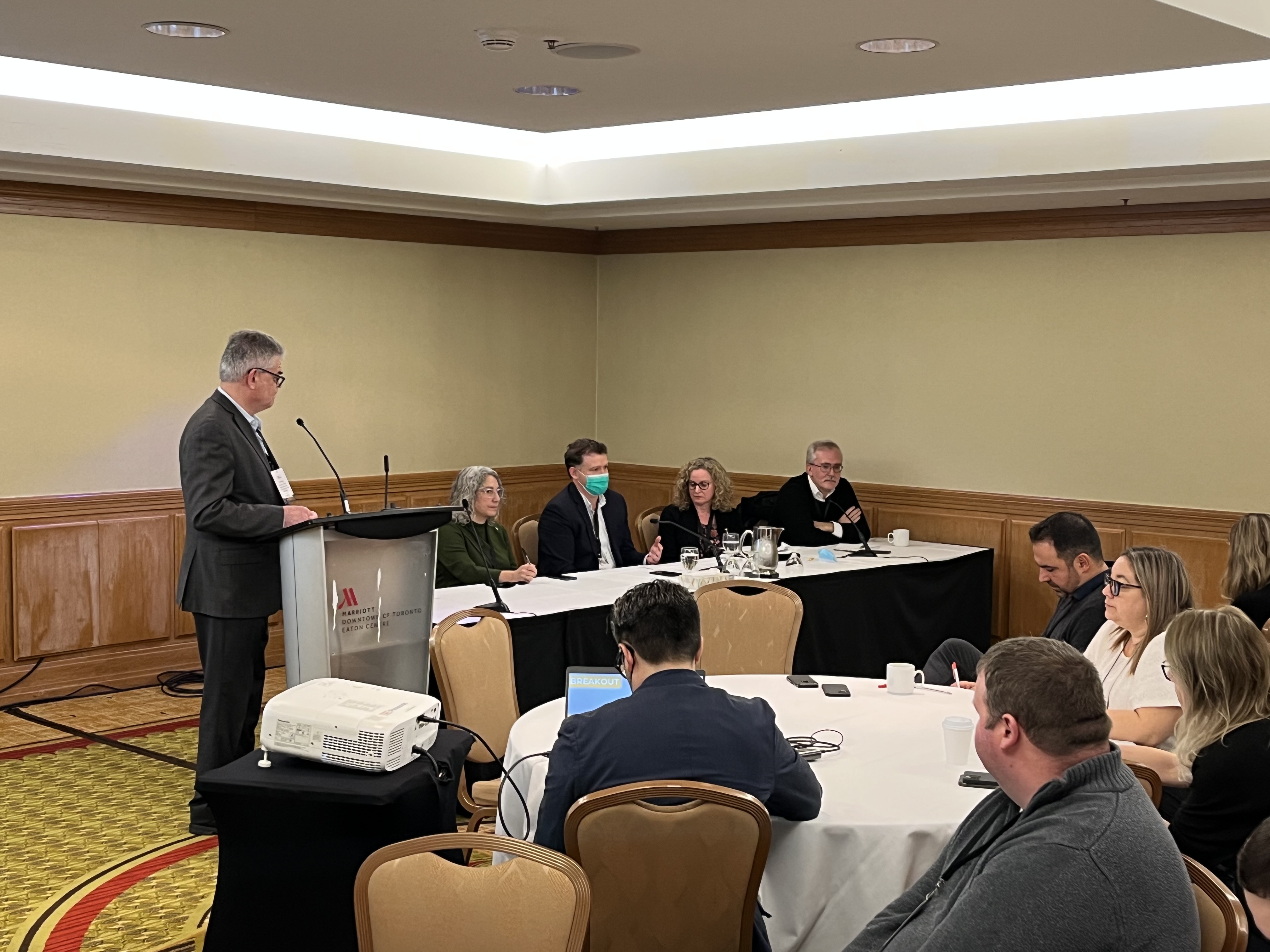 Continuing the theme of affordable housing, the morning's breakout sessions included a panel of experts assembled to discuss the Canada Mortgage and Housing Corporation's (CMHC) June 2022 report predicting the housing construction deficit in Canada (see Canada Mortgage and Housing Corporation 2022 [opens in new tab]). What CHMC's report characterized was at the current pace of 2.3 million units by 2030, construction would need to be accelerated by 2.5 times to reach the level of actual housing need in Canada and to enable greater housing affordability. This housing deficit is particularly acute in Ontario.
While housing affordability is a relatively broad term that captures the ability of all Canadians to rent or own a home, the concept should be contrasted with affordable housing or housing to assist those Canadians who are homeless or precariously housed. All the panelists agreed affordable housing should remain a priority while we seek solutions to cover the housing deficit. The session also considered some of the challenges of meeting housing needs in Ontario, such as demographic migration within the province, financialization of rental housing, supply chain issues and labour shortages, as well as balancing housing needs with need to protect the environment. While the scope of CMHC's June 2022 report doesn't cover these things, it does attempt to diagnose an important problem related to housing supply. Attendees were told CMHC will be working on publishing reports focussed on finding solutions.
On the Horizon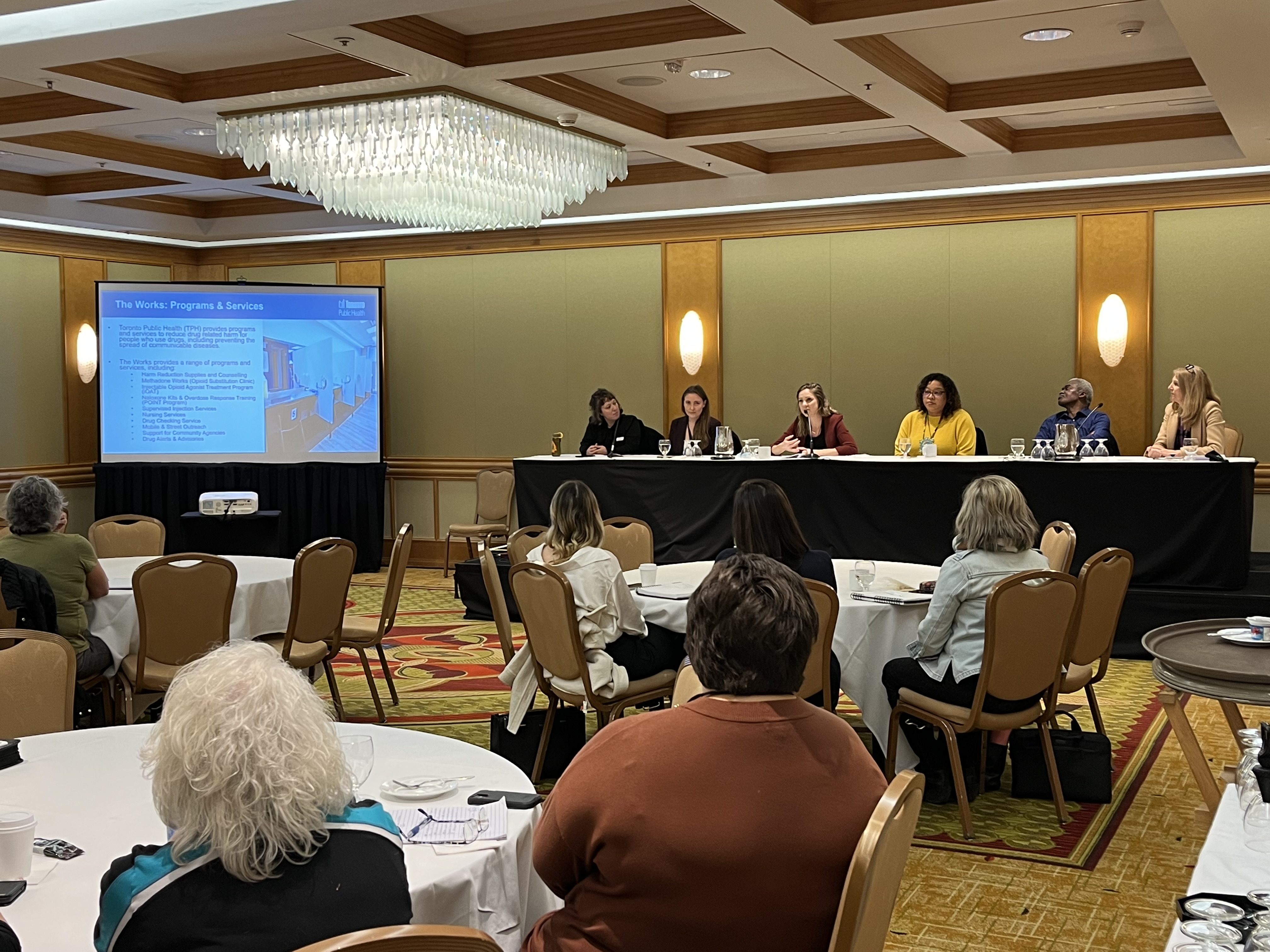 Day one's late morning sessions included a think tank session focussed on Toronto Public Health's application to the Federal government to decriminalize small quantities of illicit drugs. Conference organizers thought that the policy implications of this proposed approach—one supported by addictions experts, politicians, law enforcement, and harm reduction advocates—had human services policy implications worthy of discussion.

Participants were eager to use this think tank session as an opportunity for education and awareness. There was consensus about the intention of decriminalization and its connection to destigmatization, dignity, support, and safety. There were also bustling table discussions about the role of human services in a comprehensive approach to the drug poisoning crisis. This think tank provided a primer around future changes related to drug policy that will impact municipalities around Ontario and throughout Canada.
A Lively End to Day 1
Capping off day one was a lively discussion on culturally appropriate supportive housing (special thanks to Justin Marchand, CEO at Ontario Aboriginal Housing Services for his help!). The focus of the panel was on culturally supportive housing for Indigenous service users, but Two-Spirit, Lesbian, Gay, Bisexual, Transgender, Queer, Intersex and gender- and sexually diverse (2SLGBTQI+), as well as recent immigrant and refugee communities were also considered.
The panel of experts described examples of successful housing programs providing wrap-around supports to people benefiting from supportive housing programs. Ultimately, the panelists emphasized the need for service providers to build meaningful partnerships with the communities that they are trying to serve. In some instances, this might mean providing culturally meaningful land to community organizations for developments or simply stepping out of the way to allow community expertise to lead the way.
Learning Lessons from OMSSA's Partners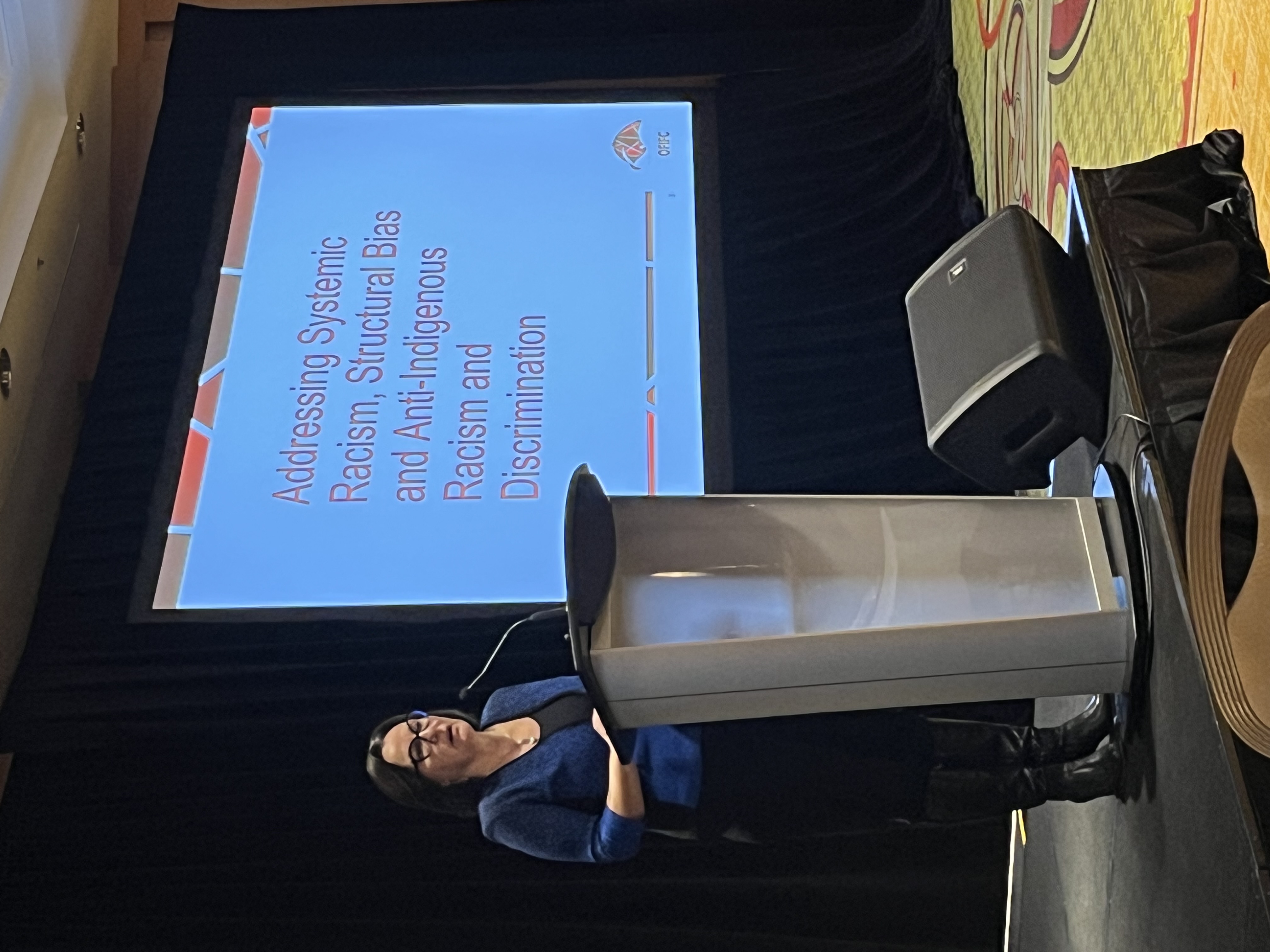 A keynote address opened day two of the conference was given by Gertie Mai Muise, CEO of the Ontario Federation of Indigenous Friendship Centres (an OMSSA partner organization). Her presentation was focused on anti-Indigenous racism and provided insights into some of the practices that OMSSA members can implement. For instance, Gertie Mai emphasized the need for organizations to continue to address issues of structural racism and rigorously evaluate the training they already have in place. She also suggested that training around anti-Indigenous racism should culminate in a specific approach referred to as Indigenous Cultural Safety training.
While knowledge and understanding of Indigenous cultures and traditions gained through Indigenous Cultural Competency training is vitally important in order to work more respectfully with Indigenous people and communities, organizations should take the next step towards interrogating the power imbalances that define the human services are provided. This work requires that human services providers be trained to become more self-reflective and self-aware of the power they hold in their work with Indigenous service users. Indigenous Cultural Safety is the outcome of such reflection and awareness put into constant practice (see Churchill et al. 2017, 4 [opens in new tab]).
Encampment Policy Innovations
Encampment policies were the focus of a session for the day two-morning breakouts. With a panel mix of OMSSA service managers and academic researchers, this session revolved around human rights approaches to encampments. More practically, the speakers also considered how to communicate and promote new policy approaches to the city council. The session was largely focused on work being done in the City of Greater Sudbury and the Regional Municipality of Waterloo. The latter is home to an approach that has sanctioned encampments/outdoor shelters. The panel also considered the successes and opportunities of different temporary housing efforts to meet the challenges of rural homelessness.
Strengthening Children's Services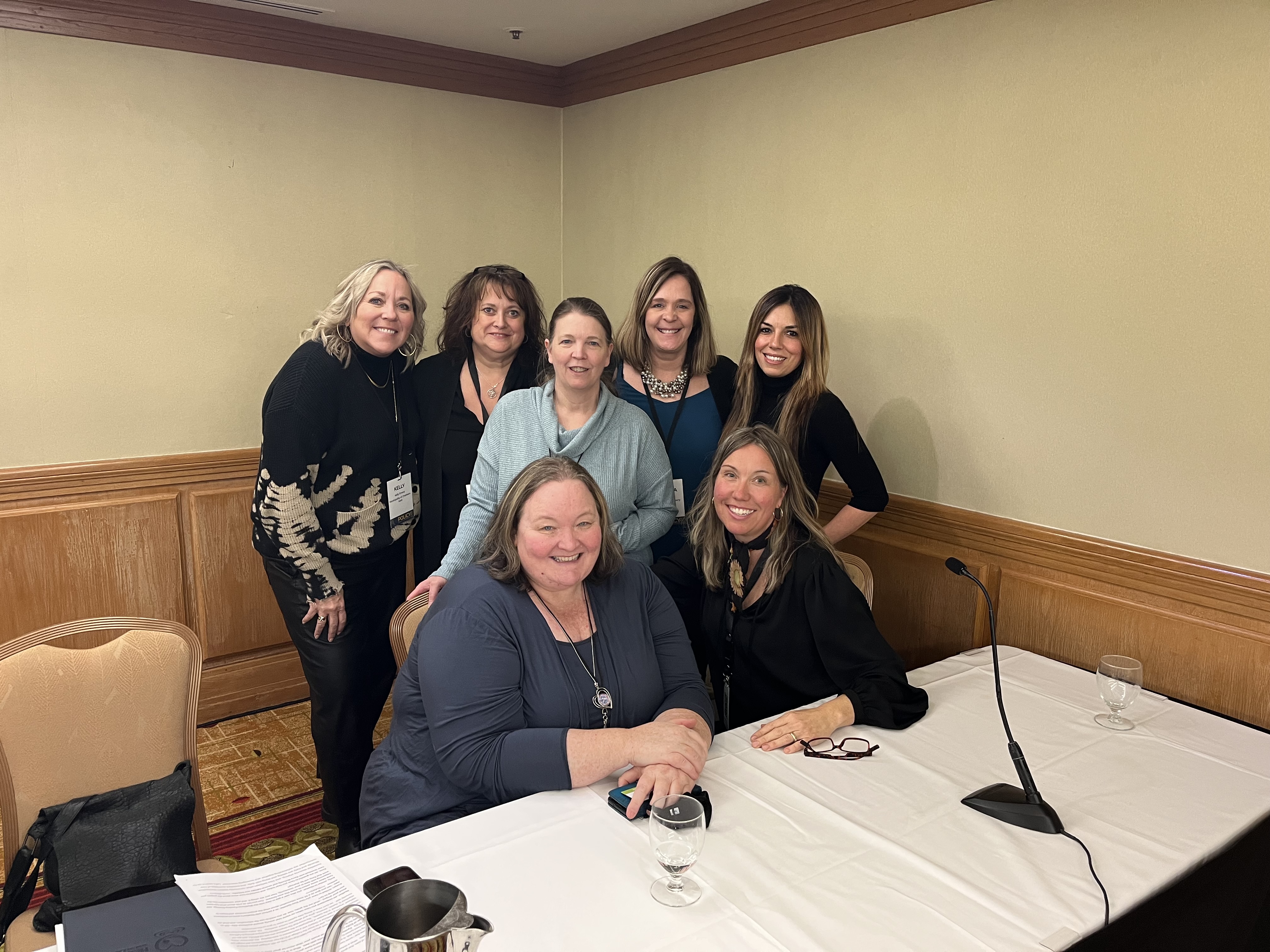 Day two also brought the second of two think tanks focussed on children's services. While the session from day one dealt with the approaches to workforce planning and problems in recruitment and retention, day two's think tank considered data collection and retention.
Day 1: While the problems related to recruitment and retention are well-known and both the provincial and federal governments share responsibility in solving these problems (e.g. through improved wages and benefits), some session attendees provided insight into the practices that they've developed to address the challenges that they are facing. For instance, some service managers have been able to build parent support for their system-wide shutdowns for Early Childhood Educator (ECEs) professional development. This experience suggests that a province-wide campaign highlighting the importance of childcare and early years on the broader continuum of education could be beneficial towards building public awareness and support of the sector as a whole. Ultimately, attendees recognized that professional development goes beyond learning, and also includes recognizing the important work that ECEs and Early Childcare Assistants do for society and the economy.
Day 2: Data collection and management in children's services continue to lack a central approach. This session brought together some of the organizations and service managers who have attempted to fill the gap around data. While the session couldn't find definitive solutions to data collection and management, an important cross-OMSSA discussion was started. The value of province-wide workforce and systems data is unmistakable, but what is needed now is more work to build partnerships to share what is being collected and more thinking around how to effectively mobilize data to support the needs of the children, families, and the staff providing these services.
New Challenges, New Solutions in 2023
These reflections certainly don't tell the story of the whole conference. What is evident from the 2022 Policy Conference is that there are still so many unanswered questions about the issues that will continue to challenge OMSSA Members. Our only hope is that this event has managed to successfully build connections within the Association and provide some insight into important policy issues facing us as we move into 2023. We hope to see you at this year's Policy Conference!
Works cited:
Canada Mortgage and Housing Corporation. 2022. Canada's Housing Supply Shortages: Estimating what is needed to solve Canada's housing affordability crisis by 2030. Accessed January 25, 2023.
https://assets.cmhc-schl.gc.ca/sites/cmhc/professional/housing-markets-data-and-research/housing-research/research-reports/2022/housing-shortages-canada-solving-affordability-crisis-en.pdf?rev=88308aef-f14a-4dbb-b692-6ebbddcd79a0


Churchill, Mackenzie, Michèle Parent-Bergeron, Janet Smylie, Cheryl Ward, Alycia Fridkin, Diane Smylie, and Michelle Firestone. 2017. Evidence Brief: Wise Practices for Indigenous-specific Cultural Safety Training. Well Living House Action Research Centre for Indigenous Infant, Child and Family Health and Wellbeing, Centre for Urban Health Solutions, St. Michael's Hospital. Accessed January 25, 2023
https://soahac.on.ca/wp-content/uploads/2015/01/CS_WisePractices_FINAL_11.02.17.pdf
---