Analyzing 211 Unmet Service Needs
How Can Service Managers Use this Data?
---
About This Webinar
Are you interested in data-driven approaches to service planning? See how new, evolving data from 211 Ontario and the Rural Ontario Institute could potentially help service managers and the sector plan, assess, and tell a more compelling, data-driven story about service needs and outcomes in Ontario.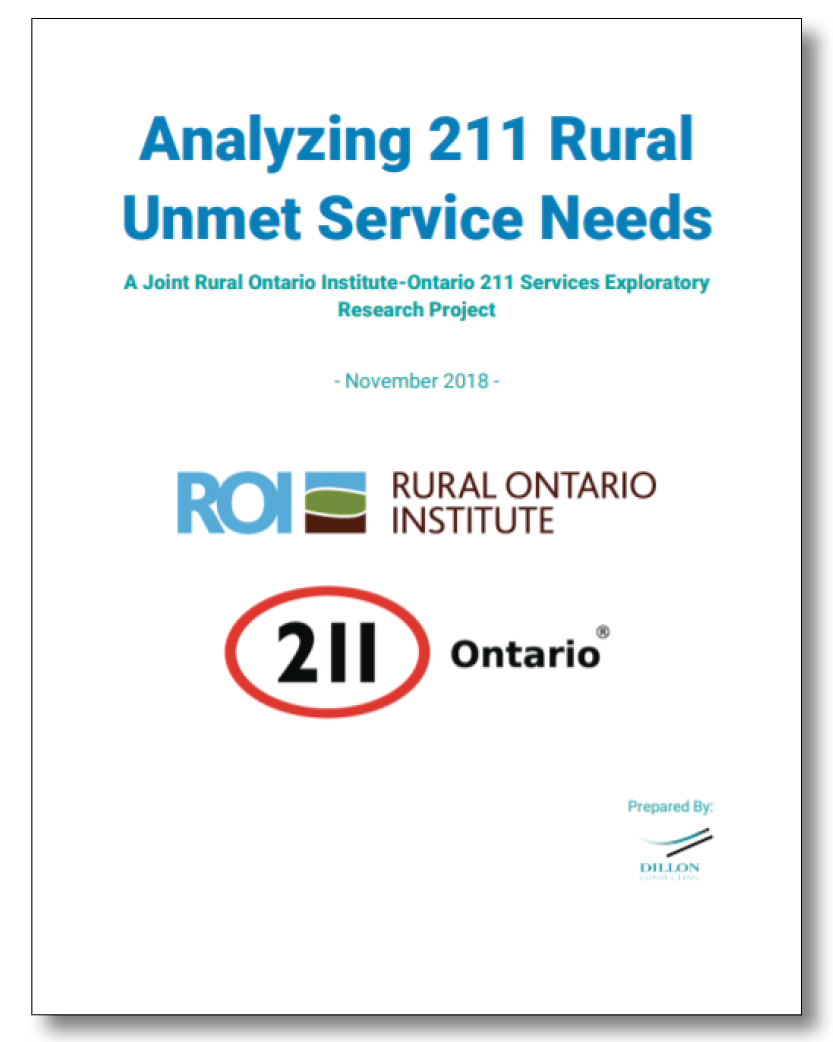 211 Ontario collects detailed data and needs information in their work to connect residents to health, government, community and social services available in their communities. Recently, Ontario 211 Services partnered with the Rural Ontario Institute (ROI) and Dillon Consulting Limited in an ambitious project to analyze and leverage Ontario-wide 211 caller data, geography, demographics and needs information, to assess and understand unmet service needs in communities across Ontario.
The project and resulting report (PDF) aimed to assess and understand the value of this information (including data on both needs and resources, to tell the demand and supply sides of the story) to inform planning and investment decisions about programs and services in Ontario.
In this webinar, you will learn about the project, its key findings, the new data it makes available, and importantly, how this information might be leveraged by Service Managers to support service planning, partnerships, and making the case for future investment in needed services.

Speakers
Click on the names of each speaker below to learn more:
Norman is Executive Director with the Rural Ontario Institute and was previously Director of Policy and Stakeholder Engagement connecting with stakeholder organizations and leading collaborative projects and studies on matters relevant to rural communities, including several with OMSSA as a partner. In previous decades he was with the provincial Ministry of Agriculture, Food and Rural Affairs supporting rural community economic development and in strategic planning roles with regional municipal government. He holds a Master of Science degree in Rural Planning and Development from the University of Guelph.
Karen Milligan is the Executive Director for Ontario 211 Services, the governance organization for 211 service in Ontario. Prior to her time in the 211 system, Karen spent seven years developing her passion for community at United Way Ottawa, working on community-wide initiatives (including a Leadership Table on Homelessness, an employment initiative for people with disabilities, and an initiative targeted at youth addiction treatment and in-school education) where effective collaboration and developing strong partner relationships were the keys to success. Karen also spent several years in the private sector with Ford Motor Company, and in the hotel/tourism sector in business development. Karen is also a graduate of the Ivey Business School's Community Shift Leadership program, class of 2016.
Michael is a planner with a background in applied socioeconomic research, financial analysis, land development and public policy analysis. Michael works at both the strategic and analytical levels of planning. Having come from a research background, Michael applies rigorous technical analysis, working to give policymakers the ability to turn insight into real-world solutions. Most recently, Michael has been involved in land use planning, economic development, retail/commercial market studies and employment lands policy planning.
Webinar Date / Time
Wednesday, March 20, 2019
1:30 PM – 3:00 PM

Members can access the webinar presentation and webinar recording in the Members' Portal.
​Pricing
Members: Free
Non-Members: $25+HST per connection
NOTE: One or multiple individuals within an organization may participate through each connection via one computer or device.
If you are looking to connect from a separate location or on a separate device, you will need to purchase an additional connection.