2019 Leadership Symposium Highlights

OMSSA hosted more than 215 delegates for our 2019 Leadership Symposium and AGM from May 13-15 in Thunder Bay, for an exciting two days of inspiring keynotes, valuable breakout sessions and countless opportunities for delegates to connect with sector peers. Other highlights included celebrating our outstanding 2019 award winners, and working with host partner Thunder Bay DSSAB to showcase the culture, history and innovation of Thunder Bay.
Have a look below for key highlights.
You can also
visit us on Facebook to view our full conference photo album
.
---
Inspiring Keynotes
With a conference theme of
Transformation Leadership: Inspiration, Motivation and Mobilization,
our keynote speakers inspired delegates to dig deep to understand what's truly required of leaders in times of transformation, and to sustain the energy, passion and courage needed to lead through uncertain times.
Opening speaker
Dr. JP Gedeon
is one of North America's foremost experts on Personal Transformation and Transformative Leadership. His personable and approachable style resonated with delegates, as he challenged them to recognize what's truly required to lead and support transformational change. Dr. Gedeon embraced the idea of radical transformation over incremental and process-driven change, telling delegates that
"If you want to transform something, abandon it, and build something new. That requires courage."
Dr. Gedeon reminded delegates that true transformation is enabled not through tasks and goals, but by building trust and momentum through a more courageous and honest leadership style, creating the strong relationships needed to accomplish transformation as a team. Rather than asking or identifying what a team or an organization must
do
, Dr. Gedeon encouraged delegates to ask "
Who are we going to be?
"

At Wednesday morning's plenary, delegates also heard inspiring remarks​ from
Jim Grieve
, former Assistant Deputy Minister with the Ontario Ministry of Education, after being recognized with OMSSA's 2019 Champion of Human Services Award. Most notably, Jim is credited for overseeing provincial implementation of full-day kindergarten, and bringing education and child care together under a unified policy lens. In his remarks, Jim recognized the immense contributions of service managers and children's services providers in bringing their insights and experience to a collaborative policy-making process that has helped achieve better outcomes for Ontario's children and families.
Nina Spencer,
best-selling author of "
Getting Passion out of Your Profession
" helped close the conference with energy and enthusiasm. Nina spoke about the inevitable risk of burnout and shared practical, actionable strategies for developing or sustaining a passion-driven approach to your profession. Delegates walked away with simple behavioural changes that they could implement right away to maintain humour, energy, perspective and purpose in their work. Throughout her address, Nina managed to get delegates out of their seats and buzzing around the room, connecting with each other in ways that highlighted what's really at the heart of how people are motivated and inspired to succeed.
---
Valuable Breakout Sessions
Our program featured 16 breakout sessions, showcasing innovative and best practices from inside and outside of Ontario's human services sector. Delegates explored a variety of topics, from continuous improvement, succession planning, effective engagement and leveraging partnerships, to practical approaches to addressing homelessness, working with Indigenous communities, and supporting clients with complex needs.

---
Showcasing Thunder Bay
Thanks to the support and planning of the incredible team at Thunder Bay DSSAB, the Symposium featured unique opportunities to experience Thunder Bay's local culture and history, and to learn from best practices implemented in the Thunder Bay community.
Our Welcome Reception and Awards Banquet showcased "Northern Hospitality" and Thunder Bay's local flavour and history, with costumes and props highlighting Thunder Bay's historical significance in the early settlement of Canada and Ontario during the fur trade era. Welcome Reception guests were entertained and impressed by original songs from a local Indigenous drumming group, and a silent auction featured artwork, clothing, treats and hand made products from local artists and suppliers, raising $475 for our conference charity, the United Way of Thunder Bay.

Delegates also had a valuable chance to learn about unique approaches to human services delivery in Thunder Bay, heading out on one (or both) of our offsite educational tours. Tuesday's tour allowed delegates to learn about Thunder Bay's work and approach to partnering with Indigenous communities in the delivery of culturally appropriate social services, through visiting the Thunder Bay Indigenous Friendship Centre (TBIFC) and the new EarlyON Waabagonee site. On Wednesday, delegates visited a variety of Thunder Bay's unique housing sites, learning about local approaches to supportive housing for young mothers and seniors, innovative building design, and touring a brand new 24-unit affordable housing development.
---
Celebrating our 2019 Award Winners
On the evening of May 14, delegates had a chance to come together, celebrate and recognize some of the outstanding human services teams and professionals from across our sector through the OMSSA Awards. With the help of incoming President Dan McCormick to present the awards, our M.C. Bill Bradica, CAO of Thunder Bay DSSAB, guided us through the evening while we recognized the following award winners:

Lifetime Achievement Award
Beth Nowak, Director of Childrens Services, Cochrane DSSAB
Gayle Montgomery, Circles Coordinator and National Recruiter for Circles Canada, County of Lambton
Local Municipal Champions
Guelph-Wellington 20,000 Homes Campaign, County of Wellington
Homelessness Prevention Team, District of Sault Ste. Marie
Modernized Service Delivery Model for Child Care Subsidy, City of Toronto
Patti Moore Human Services Integration Award
Keith Palmer, Former Director of Community Services, County of Dufferin
Delegates had the chance to hear inspiring words from our award winners, and to relax and celebrate with their colleagues, from their own organizations and teams, and across the sector. With a "northern hospitality" theme, the evening also featured a four-course dinner, music and dancing, and a photo booth to give guests a fun memento to take home with their teams.

---
OMSSA's 2019 Annual General Meeting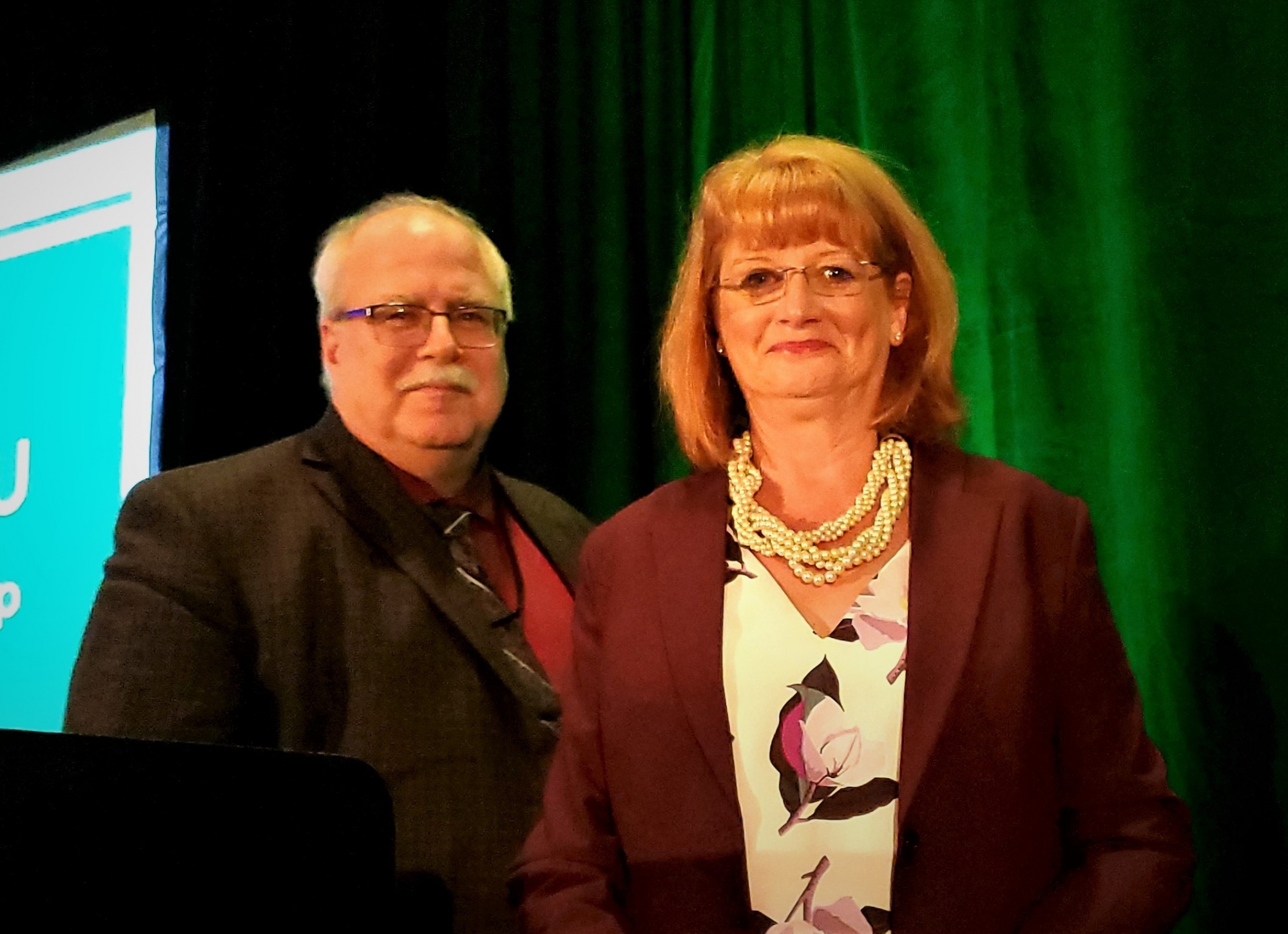 On Tuesday, May 14, delegates participated in OMSSA's
2018 Annual General Meeting
, to hear updates on OMSSA's achievements, milestones and financial performance in 2018. At the AGM, OMSSA presented an award to outgoing President Elaine Baxter-Trahair to recognize her significant contributions and dedication to both OMSSA and the sector.
Following the AGM, voting delegates participated in an election to fill four openings on OMSSA's
2019-2020 Board of Directors
. For more details on what was shared at OMSSA's AGM, access the highlights below.
AGM Highlights