Province Delivers its Fall Economic Statement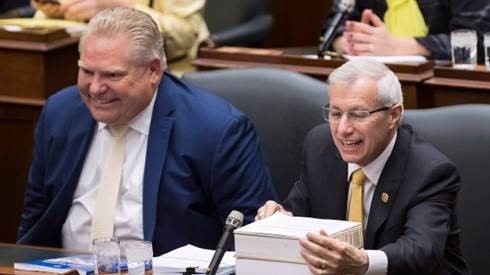 November 15, 2018
Ontario's Finance Minister Vic Fedeli delivered the 2018 Ontario Economic Outlook and Fiscal Review today, projecting the current deficit at $14.5 billion. Key highlights and implications for Ontario's human services sector include:
Fiscal responsibility measures
A commitment to driving greater efficiencies and value for money with respect to provincial transfer payments to local governments.
A commitment to making existing government programs more effective (citing the example of providing families more choice in child care programming).
Freezing discretionary public-sector spending, including travel and meal expenses.
Implementing a public-sector hiring freeze, with the exception of essential front-line services.
The decision not to move forward with the previous Liberal government's plan to provide free preschool for children ages 2.5 and above.
Wages and Taxation
Introducing a Low-income Individuals and Families Tax (LIFT) tax bracket, to ensure that those working on minimum wage (less than $30,000 in annual income) will not pay provincial taxes.
Repealing Bill 148 and cancelling the associated increase in Ontario's minimum wage planned for January 2019
Housing
Exempting new rental units from rental control regulations with the aim of increasing rental supply. Rent controls will remain in place for existing units and tenants.
Cancelling the Development Charges Rebate Program, with the aim of creating savings of approximately $100 million over four years.
Mental Health and Addictions
Investing $1.9 billion in mental health and addictions services over the next decade, matching the federal government's commitment.
Creating new or expanded Rapid Access Addiction Medicine clinics, with the aim of increaing access to specialized addictions treatment.
---
More information